Dymond Lake Lodge – Manitoba's most exclusive wingshooting destination.
Located just north of Churchill on the Hudson Bay Coast, Dymond Lake Lodge offers a unique waterfowling adventure and is situated among North America's main fly way and staging and feeding grounds. We offer first class accommodations for up to 16 guests. Each lodge features a large sitting area complete with couches, chairs, stone fireplaces, wildlife decor, reading areas and large picture windows overlooking the pristine Hudson Bay wilderness.
Each lodge building hosts several bedrooms, fully furnished and comfortably appointed with bedding, towels, showers and private washrooms. The lodges are heated with wood burning stoves or gas and are equipped with propane or electric lights.
Schmok and Commonwealth Lake Mini Lodges – Experience the Central Barren Ground Caribou migration. 
Discover Manitoba's most exclusive Caribou hunting destinations at Schmok and Commonwealth Lakes, located in Manitoba's barren land, 140 miles Northwest of Churchill near the Nunavut border.
Our tundra lodges are situated among the Central Barren Ground Caribou's migration route with herd numbers approaching half a million animals. Our Caribou hunts are sure to be one of your most memorable big game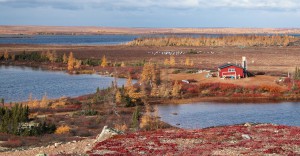 adventures, as we enjoy a near 100% opportunity rate year after year and boast many Boone and Crocket and Pope and Young animals.
We offer a two Caribou limit and opportunities to hunt Ptarmigan; fishing for Northern Pike, Lake Trout and Arctic Grayling is also available at each lodge location.
This is truly unparalleled Caribou hunting, another "hunter's paradise".
"My second trip to Schmok and I enjoyed my hunt tremendously…" – Harold Rice 2012
North Knife Lake Lodge – Fishing and Moose hunting
North Knife Lake Lodge, approximately 700 miles north of Winnipeg, is situated in the heart of Manitoba's majestic northland.
Hunting – We utilize our North Knife Lake Lodge and a number of our outpost camps (see below) situated on smaller lakes nearby for our legendary moose hunts. Mornings and evenings are generally spent at points of land, old burns, river mouths or open swamps, doing your best imitation of an amorous lady moose or one of her cantankerous suitors.
Fishing – Surrounded by clean, clear waters, magnificent sand-crowned eskers, and the hardy trees of the Boreal Forest, this sets the scene and the atmosphere for an adventure of a lifetime in fishing paradise. Wild yet pristine, tranquil yet energizing, remote yet luxurious-our place is a study in paradoxes. Something our guests like to call – the refinement of the wilderness.
Our 8000 square foot custom-designed, all-natural wood lodge will incite wonder at the remoteness of such comfort and beauty.
The lodge is complete with numerous and intimate sitting areas, dining room, complimentary bar, tackle and gift shop, stone fireplaces, screened in decks, wood burning hot tub, games room, video library, fly tying table, satellite telephone system and conference facilities.
Small and Etawney Lake Mini Lodges – Moose Hunting at its finest.
Experience Manitoba's most exclusive Moose hunting destinations at Small and Etawney Lakes located approximately 150 miles Northeast of Thompson.
Our highly managed Moose allocations produce impressive bulls and offer 100% opportunity. With average animals reaching 45 inches and our largest to date at 66 inches, North Knife Lake and surrounding bodies of water have what it takes to ensure a Moose hunting trip like no other.
Nanuk Hunting Lodge – Unparalleled waterfowl hunting.
Nanuk Lodge is located on the western shore of Hudson Bay 500 miles north of Winnipeg. Nanuk Lodge is ideally situated for the goose hunter. It is here that literally thousands of geese – Canada's, Ross's, Snow's and Blue's – make their first landfall of the long trip southward from their arctic home, where they breed and fatten during the summer.
At Nanuk Lodge, far from the stress of your everyday world in this remote and primitive place, you'll feel at one with the unspoiled strength of this land. You'll remember the beauty of the unbroken vistas, the clean crisp air and the seemingly endless flights of geese overhead long after your return to the demands of your daily life.