Helen Webber and Marie Woolsey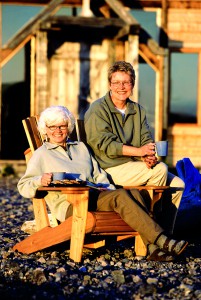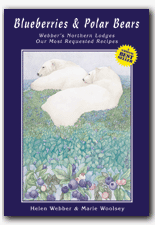 These cookbooks, along with our very own Dymond Lake Seasoning, make a great gift to bring home to your loved ones. An authentic piece of the north that you have personally sampled! It's also a sure way to keep getting those fabulous meals you enjoyed during your stay with us.
Also authors of the mini-cookbook 'Wild and Wonderful' series.
For online purchasing, sample recipes and more information, visit
www.blueberriesandpolarbears.com
A note from the authors:
You could say that Blueberries and Polar Bears is primarily a cookbook but we have written it to be more than that. We have included short stories and notes to give you a glimpse of what life has been like for one young wife plucked out of southern Ontario and dropped in the middle of a northern native village (Marie); and another (Helen) who grew up in Churchill, Manitoba, a very isolated community. So in this book we have combined the recipes we use at the lodges with some of the predicaments in which we have found ourselves. I feel the book reflects the pioneer spirit that both Marie and I have.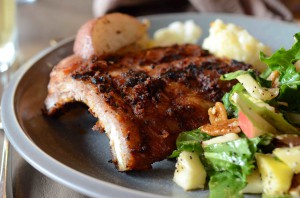 The impetus for writing Blueberries and Polar Bears came from the guests themselves. For 25 years, Helen has been entertaining and cooking for guests, first at Dymond Lake Lodge, and then at North Knife Lake Lodge, both in Northern Manitoba. Marie has been helping out for many of those years. The guests have convinced us that the food we serve is above average and deserves to be shared. Thousands of satisfied guests can't be wrong! This book will fill the need for those who want to take a bit of the north home with them. But we are hoping that it will appeal to many others who have a love of the wilderness and an adventuresome spirit. It is written with humor and reveals much of our personalities because we know, personally, many of the people for whom we are writing.