Combine our fantastic caribou, moose or goose hunting adventures in northern Manitoba for the experience of a lifetime!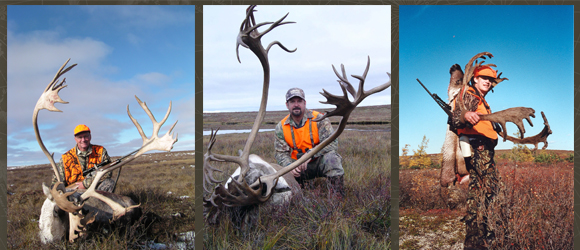 Caribou
Situated on Manitoba's wild barren land on the boreal forest's edge, our mini-lodges at Commonwealth and Schmok Lakes are located in the Central Barren Ground Caribou's migration route and grazing area. With the Central Barren Ground herd's numbers approaching half a million and our proximity to the migrating masses, somewhere there is a trophy bull with your name on it.
A remote paradise, this unexplored territory is rich with trophy caribou and waterfowl. Hunting the mighty caribou out of one of our tundra lodges is sure to be one of your most memorable big game adventures as we enjoy a 100% opportunity rate year after year.
Moose
The heart stopping response of 1000+ pounds of aggravated bull moose charging through the brush is sure to give you the worst case of "buck fever" you've ever had. Should you need a break from the thrill of the hunt there is plenty of fishing to do in the afternoons. You can fish for trophy Lake Trout, Walleye and Northern Pike, all the while on the lookout for sign and additional "calling" sites.
This is an unforgettable wilderness adventure of moose hunting, fishing, delicious shore lunches and campfire tales.
Mornings and evenings are generally spent at old burns, river mouths or open swamps, doing your best imitation of an amorous lady moose or one of her cantankerous suitors.
Waterfowl
Overhead the geese are arriving in waves. Four species – Canada's, Snows, Blues and Ross'. They are so near, and so plentiful that you can hear the simultaneous flapping of their powerful wings between their wild honking.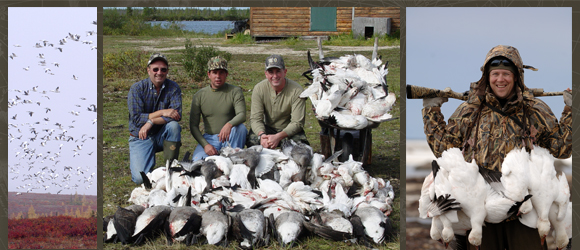 Nearly half of North America's snow geese are bred in the Hudson Bay lowlands, a northern frontier, making it one of the continent's most important waterfowl breeding areas. They come in white waves of hundreds and thousands, heading to their nesting grounds near our hunting lodges for spring and fall.