Overhead the geese are arriving in waves. Four species – Canada's, Snows, Blues and Ross'. They are so near, and so plentiful that you can hear the simultaneous flapping of their powerful wings between their wild honking.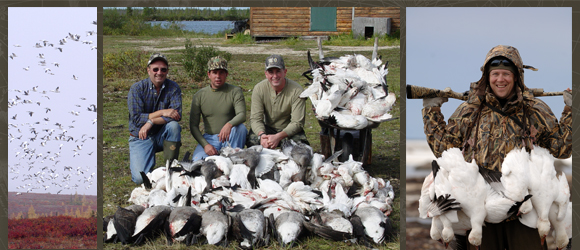 Spring Goose Hunting- Snows at the Source
Our new white-goose-only season was created to address a population explosion; now you have the opportunity to do your part for conservation. Nearly half of North America's snow geese are bred in the Hudson Bay lowlands, a northern frontier, making it one of the continent's most important waterfowl breeding areas. They come in white waves of hundreds and thousands, heading to their nesting grounds near our hunting lodge.
Dymond Lake Lodge is the first lodge situated on the west side of Hudson Bay. This means the birds have not been shot at when they arrive at the feeding grounds around Dymond Lake Lodge.  For goose hunters, we set natural willow, spruce and tamarack blinds positioned near popular grounds frequented by the geese. Decoys are expertly set; then it's up to you. Just sit tight and prepare for the experience of a lifetime.
Snow Goose hunting on snow-patched tundra is a truly unique adventure – add this one to your list.
Fall Goose & Duck Hunting
Nanuk Lodge is located on the western shore of Hudson Bay 500 miles north of Winnipeg on one of the main North American flyways in the midst of staging grounds for the geese. It is here that literally thousands of geese – Canada's, Ross's, Snow's and Blue's – stop and rest during their long migration south for the winter.You have the thrill of being some of the first to hunt these birds.  In this "hunters paradise" the opportunity is your to limit out with a full selection of birds.
Join us at our hunting lodge for a spectacular retreat near the top of the world.