You're sitting in front of your computer right now.
You've probably needed a break for hours or weeks because this isn't how you normally spend your time – wondering what you could do other than reading emails or surfing the Web. You just needed a mindless escape for a few minutes, but time is so precious and you're crazy busy. The economy sucks and you want to make sure that if you take a REAL break you'll get back to your busy life recharged and not regret spending one single dollar (feel free to regret the gas money you forked over to get to the airport).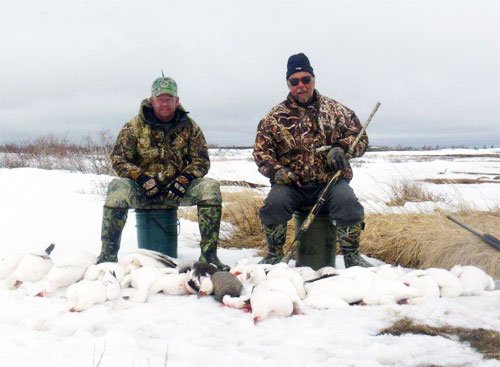 Webber's Lodges specializes in pauses from the grind, by providing wilderness experiences that are addictive. As Manitoba's most trusted outfitter we strive to give you full value for every penny you pull out of your pocket to book with us.
We're committed to quality hunting and fishing experiences and we have a 40-year legacy of satisfied guests to prove it. Caribou, moose and goose hunting, incredible fishing, luxury lodging, gourmet cooking and quality customer service – owner operated and family run.
That's what we do.
Randy and John had the foresight to know they would need a break and decided to book a spring goose hunt with Webber's Lodges. They were here a couple of weeks ago and gave us every indication they had the time of their life.
They left with their batteries recharged.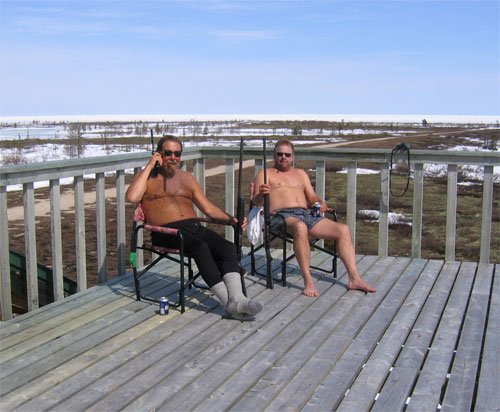 John heaped gracious praise on Dymond Lake Lodge Operator/Guide Doug Webber, and also added to the guest book:
Best lodge ever!! Spring goose fling! Wow! Thanks Doug.
Randy, equally generous with the compliments, was moved to write a poem in the guestbook:

Goose breast dinner, Van Ruiten wine
Limits of geese, cold front, all is fine
The tundra has stolen my heart
I wish this wasn't the end but the start
The north is a mystery shrouded in fog
Wander all you want, stay out of the bog
Mother Nature is my guide to the north
But wait until late spring before you go forth.
Here's some of what Randy wrote to us once he returned home:
John Van Ruiten and I had the opportunity to shoot the first five days of spring goose season under the direction of Doug Webber at his well-equipped lodge on Hudson Bay. As we crossed the ice by snow mobile, we came upon a large concentration of geese. Turns out this large concentration of both snows and blues was very close to the cabins that comprised the lodge. This told John that we were in the right spot at the right time.
Once we arrived at the lodge, we were given some direction from Doug, however we were pretty much able to hunt when and where we chose – a unique experience. Both John and I are veteran water fowl hunters and once Doug understood that, he gave us the opportunity go in the direction we wanted to shoot as long as we were within the limit.
It proved to be 4 1/2 days of wonderful goose shooting for snows and blues. We observed a great deal of Canadian Honkers as well as ross geese, but our game was snows and blues. Given the freedom to hunt within walking distance of the lodge itself, we had a wonderful time.
When we wanted decoys, decoys were set for us. When we needed a warm lunch, we were picked up by either snowmobile or cart. We were checked on a regular basis to see if we needed anything such as shells, or if we wanted to come in from the cold. On a couple of days we had exceedingly warm weather and actually sunbathed with a glass of wine on the deck of the house. While we sat on the deck, we could observe the geese and their movements. This allowed us to plan and chart our next hunt.
The chef, a young man who had obviously been in camp before, did a wonderful job of cooking, but one night he surrendered the reigns to John and I. We did chicken fried goose steak and goose breast chicken fried along with a fine gravy and fruit relish. This was a success. It made for a nice evening. Cocktails and wine were available.
The lodge is immaculate, although putting your shoes on and off every time you entered was a bit much, but we accomplished it. Doug couldn't have been a nicer host and was with us at all meals and available for all hunts. You could tell he had bit of an itchy trigger finger as well.
The rare adventure of hunting geese on the frozen tundra, ice and snow is different than John and I had ever experienced. Witnessing the travels of the geese as they were moving to breed was something I had always wanted to do.
I certainly hope that I can return with friends of mine I have shown the pictures to. Perhaps their favorite photo was the snowmobile and the sled slowly sinking on the melting ice. Good thing helicopters are available.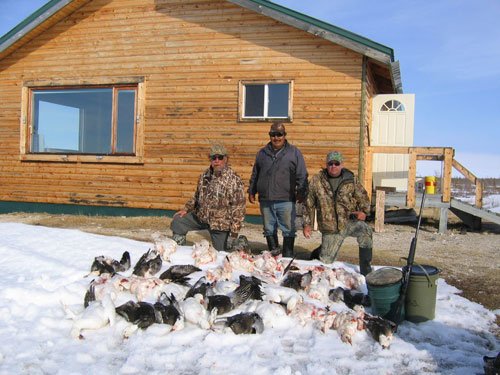 Thanks Randy! Much appreciated! We look forward to seeing you, your friends and John again soon at Dymond Lake Lodge for our spring goose hunt. We certainly enjoyed your company!