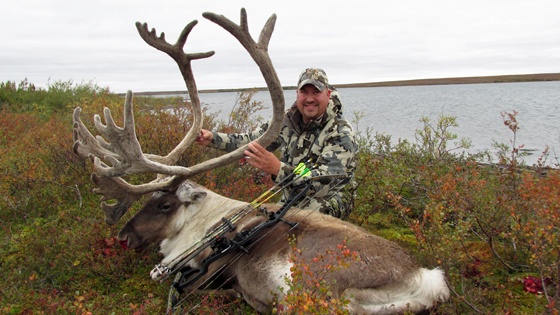 by Russ Mehling, General Manager, Webber's Lodges
As we approach a new year of adventures at Webber's Lodges, we thought it would be a good time to pause and reflect on some of your 2015 accomplishments.
Musk Ox Hunting
Our new and improved Musk Ox hunts (in partnership with Henik Lake Adventures) got our season started on the right foot. Temperatures were mild and the northern weather affected our time in the field, but we made the most of our opportunities with four Musk Ox bulls, one for each hunter. Two of the bulls made the Boone & Crockett Record Book, one smashing the minimum of 105 inches by almost 10 inches, while the other two missed the record book by less than an inch. Quantity and quality are two words we use to describe this hunt.
Now that Webber's Lodges has taken over Nanuk on the southern Hudson Bay coast, and construction of the new arctic luxury lodge is complete, we can get back to what we do best. Which means we will be offering both spring and fall goose hunts with unlimited snow geese in the spring and both snows and Canadas in the fall. These exclusive goose hunts are limited to less than 50 hunters per year, all of whom will experience 5-star accommodations and meals, unlike the first explorers who arrived in this remote area over 300 years ago.
The fishing remained excellent at North Knife Lake in 2015, at both the main lodge and at our outpost camp. Too many master anglers to list or share photos of, so here is one of the best – a 47-inch Master Angler Northern Pike!
Last season will go down as one of the strangest caribou years ever!  The "resident" Caribou (the ones that move in early and hang out waiting for the rest of the herd) were there, but their friends decided to stay up north for an extra month, probably due to the El Niño. There were some quality bulls taken during the early part of the season, especially some archery animals that made the Pope & Young Record Book. We also had a father/daughter team share camp with us and Elizabeth made all the boys jealous.
Moose hunting season picked up where 2014 left off and we had some excellent moose action. Especially exciting were the father/son hunts. We also had exceptional success on a hunt out of one of our new outpost camps, and we are excited to be opening even more outpost camps in 2016.
2016 Trade Show Schedule
As with most years, the Webber's Lodges 2016 season will start with our attendance at trade shows. This year we will be exhibiting at the following:
The Sheep Show in Reno, Nevada, Booth #361, January 21-23
Slam Quest in Las Vegas, Nevada, Booth #514, January 28-30
SCI in Las Vegas, Nevada, Booth #5618, February 3-6
Western Hunting & Conservation Expo in Salt Lake City, Utah, Booth #833, February 11-14
FNAWS – Iowa Chapter in Des Moines, Iowa, February 20
We look forward to seeing everyone again at the shows. Please stop by and hi!
Happy hunting and good fishing!