Jeff Knaebel won't soon forget hooking into a monster 47-inch northern pike while fishing with Webber's Lodges last year, nor will his brothers, uncles and cousins, who were on the fly-out fishing trip to Small Lake with him.
The core group of brothers Rich, Joe, and Al, has been fishing with Webber's Lodges for 15 years, but nephew Jeff edged them in the fish department this time.
"Everybody else caught some good fish too," said Jeff. "They weren't far behind that one. But that was the best one of the trip for sure. It was our first day fishing. Probably mid-afternoon, I was fishing with my cousin Michael, and the water was pretty calm.
"I remember casting out about 15-20 feet from shore in about 8-10 feet of water, feeling the bite, setting the hook, and it just kind of felt like a log or a rock or something. It didn't move. Then it took off swimming and jumped out of the water and splashed several times. I have no idea how long it took to land it. It seemed like quite a while."
Jeff caught the 35-pound northern pike on a red and white #5 Mepps with a small bucktail, something he's used quite a bit over the years on both family and corporate fishing trips to North Knife Lake Lodge and on fly-out trips to Small Lake.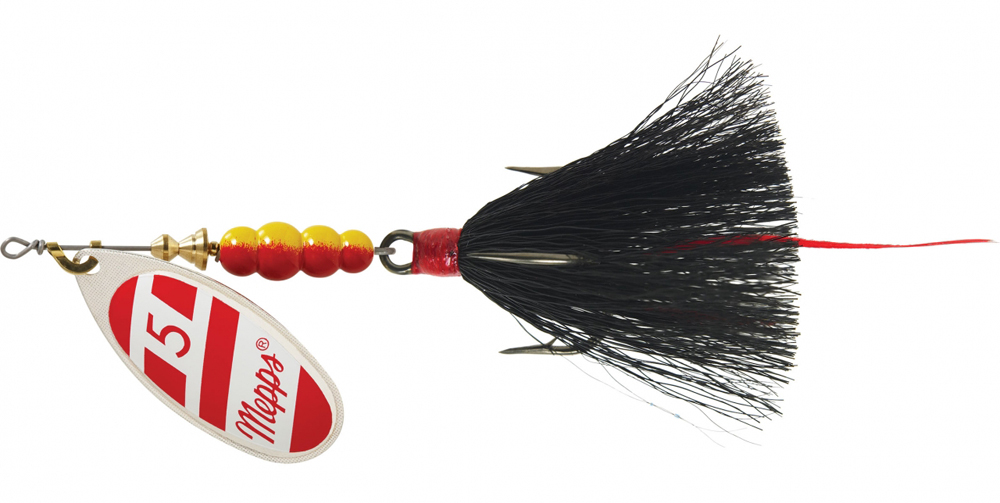 "I could tell when I got him close he was for sure one of the bigger ones that I caught," said Jeff. "Then when we put the tape measure on him, clearly he was three or four inches longer than anything I had caught up there before. He was out of the water for less than 30 seconds and swam away aggressively. It was a great experience!"
It was Jeff's second time on the Small Lake fly-out trip. His first trip came years earlier, and it was to North Knife Lake Lodge with his grandfather, uncles and several cousins. Brothers Rich, Joe and Al have been on every trip, with Rich being the main organizer.
"Jim Hanson was the pilot who recommended Webber's Lodges," said Rich. "He flew us up on a trip to one of our business vendors and we told him we were looking for a fly-in place to take our Dad Northern fishing. 'I've got just the place for you,' he said. And he introduced us to Webber's. That was over 15 years ago and it's been great.
"When my Dad was alive we always took him to the main lodge at North Knife Lake. But after he passed away we started flying out to Small Lake. We took Dad to North Knife until he was about 85. He was in real good shape. He died at 87. He had some good blood in his veins."
The early trips to North Knife Lake Lodge for the Knaebels were family oriented, a way to reconnect with each other. They started out with Rich, Joe and Al and their father Joe Sr. More family became involved over the years and corporate fishing trips followed as a way of appreciating clients and staff.
"We've each brought sons and son-in-laws on a couple of occasions," said Joe. "It's good fishing and we like Doug and the family. We know them. It's predictable. They've always treated us right. It's just a great experience. We used to do the guided routine over at the main lodge. When my Dad was alive that was fine, but that's eight-to-five type fishing and we really fish harder than that. Most of us are good enough and we know the lake. We know where the best fishing spots are. We don't mind roughing it a little more and doing our own cooking to have more hours of fishing."
"They've learned the lake enough to fish themselves, which everybody likes doing," said Jeff. "They fish on their own schedule and everybody kind of likes the experience of being able to cook, stay in the lodge and do our own independent thing. The food is a lot better at the main lodge and it's nice to be served, but it's also nice to be on your own schedule and do your own thing. Being out there and staying at the only lodge on the lake is pretty nice. And knowing you're the only one to fish those spots that year is a pretty cool experience.
"We've had more than one fish on several times. We had a picture from a few years ago that showed Dad and I with two Master Angler pike we landed at the same time at North Knife Lake. It was at the far north end of the lake. And it was nice to catch some lake trout in there along with the Northerns. The food, the fishing, everything about the experiences has been great."
While the North Knife Lake adventures have always been good for the Knaebels, the Small Lake experience has brought the family even closer together.
"It's nice to spend time with everybody," said Jeff. "We don't get that group together very often. It's a special experience just to get out with everyone for a full week. In the city everybody stays in contact, but not the close contact you get a Small Lake."
"Small Lake is a little rougher than the main lodge at North Knife," said Joe. "But the fishing and the experience is good in both places. You're more remote at Small Lake but you're on own and that appealed to us."
Both Al and his wife Pam and Rich and his wife Barb have been on 4-5 day couples' fishing trips into Small Lake and have stayed at North Knife Lake Lodge before flying back to Thompson. The next generation has also become involved.
"We've taken some of our kids into Small Lake," said Rich. "My daughter Megan has been up with us. She graduated high school and is married now with three kids, but a couple of years ago I took my son-in-law Brad up there and she got mad at me because I took him instead of her.
"And the business people we've taken have been thrilled. We really look to find people who appreciate what an adventure it is. It's a once in a lifetime adventure. There's been a time or two when we've had clients want to try something different. One of our clients, who had been to North Knife Lake Lodge and on our fly-outs, wanted to go to Great Slave Lake, but when he got back he said, 'You know, it just wasn't the same as when you took me to Webber's.'"
Clients that have joined Rich, Joe and Al over the years have arrived courtesy of their business, Mid-Am Building Supply, Inc. which their late father Joe Sr. started in 1967. Joe Jr. is now retired, Rich says he is "mostly retired" and Al is President.
Mid-Am Building Supply distributes building materials to lumber dealers, offering products including but not limited to interior and exterior doors, windows, siding, roofing, insulation, fasteners, cabinets, moldings, locks and many other items. They currently have over 335 people on their Mid-Am team and serve customers in 12 states from their service centers located in Missouri, Kansas, Iowa and Illinois.
"All the materials you need, other than lumber, to build a house," said Joe.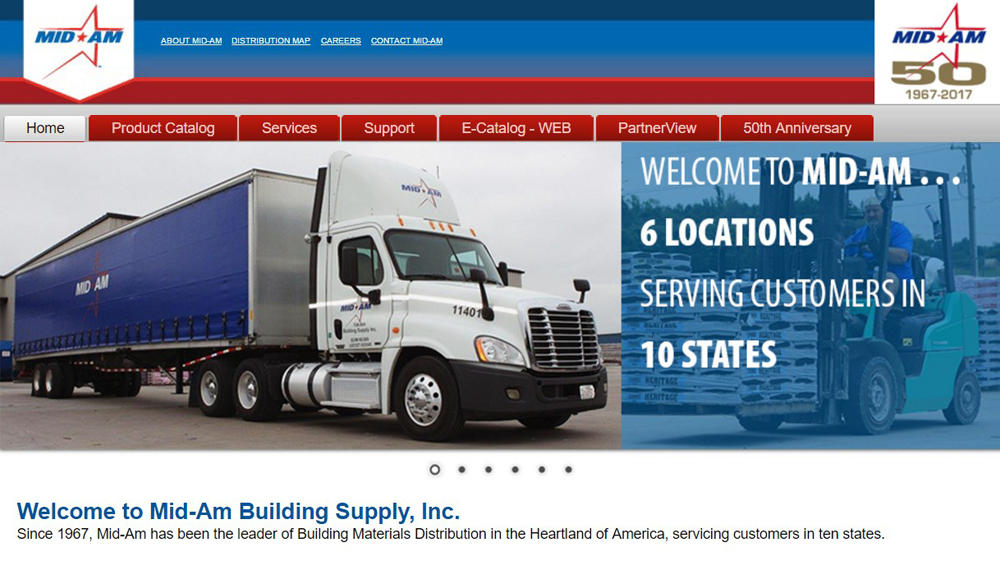 "I'll tell you a compliment," said Rich. "One of the gentlemen that used to come with us up there passed away and at his funeral visitation they had a lot of family pictures. Included in those pictures were all the trips he took to North Knife Lake Lodge with us. Those trips meant a lot to him. There's nothing like it.
"Doug and Helen and Mike and their families want to make it personal. And they want you to have a good time. They really sit down and talk to you there, genuinely really nice people. They treat us well. It's hard to explain until you've tried a few other lodges. Webber's sets a pretty high mark. They're the kind of people you want to come home for supper with you."
Rich is a both a hunter and a fisherman. He's harvested Boone and Crockett elk in Colorado and Mexico and also moose with Doug Webber in Manitoba at North Knife Lake, but he says he's enjoying the fishing more now, especially at Small Lake.
"I really love Small Lake," he said "I've probably fished it a dozen times or more and I know it like the back of my hand. Last year I was there with my son-in-law and he got six Masters (Master Angler Northern Pike). I think we took 12-15 Masters out that week. Plus you've got walleye in there. They're nice to eat."
Joe Knaebel Sr. took his children fishing when they were growing up, and they reciprocated later in life, further deepening family connections that will result in strong family relationships for generations to come. The tradition now continues at Small Lake, where roughing it a little only serves to enhance the experience, and that includes the culinary creations.
"I cook fish pretty good," smiled Rich. "But I can't cook like Helen."