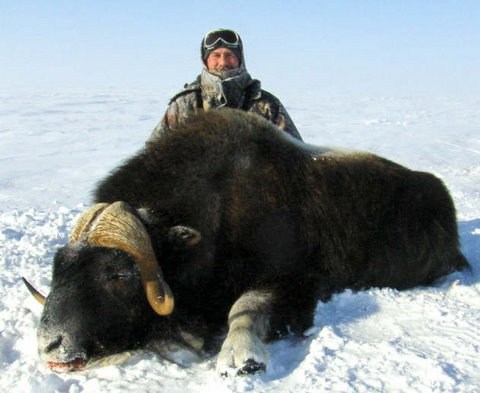 Webber's Lodges, in partnership with Henik Lake Adventures,  is pleased to announce that our Barren Ground Muskox hunts and Arctic Wolf hunts will take place from April 24-30, 2015, east of the Thelon Game Sanctuary in Nunavut. Success rates on these hunts to date have been excellent!
While the hunts are all-inclusive from Winnipeg, Manitoba, the home base for the five days of hunting will be Baker Lake, Nunavut, located 320 km inland from Hudson Bay at the mouth of the Thelon River on Baker Lake. Near Canada's geographical center, Baker Lake is notable for being Arctic Canada's sole inland community.
Temperatures for this muskox hunt are expected to be at least 20 degrees milder than on previous hunts which took place in March, but the opportunities for trophies remain high. These hunts have an excellent success rate and over 50% of the muskox bulls score high enough to make the Boone and Crockett record book. Arctic wolves range from 120 to 140 pounds and their pelts come in a variety of colours, from almost white to black with most having a grayish blue tinge to their fur.
Barren Ground Muskox are up to 15% larger than their Greenland Muskox cousins and this area is virtually un-hunted. We stay in the community of Baker Lake to take advantage of comfortable lodging not generally associated with muskox hunts. This also gives us the flexibility to head out in whatever direction the muskox are. The ability to travel in any direction is key in giving the hunter excellent opportunities to harvest trophy muskox bulls and Arctic wolf.
"Each hunter will have their own snow machine and we'll venture out from Baker Lake every day in search of muskox and Arctic wolves," said Russ Mehling, General Manager at Webber's Lodges. "We'll be staying in a hotel, so we'll have a good breakfast before heading out for adventure, and we'll be back in time for supper, a hot shower and satellite TV.
"We have a very healthy population of muskox and we only take eight hunters on this trip each year. The Arctic hunting experience is something rare and special even for seasoned hunters. You'll see a black dot on the horizon beyond the snow-covered sand eskers and there will be a herd of 10-100 muskox there. You would never believe they could live out there. The Inuit have been hunting muskox here for centuries, and they'll be our guides. Muskox also make unique trophies and are a fantastic mount."
Muskox meat is similar to caribou and other wild meat, but muskox are also prized for their lightweight underwool or Qiviut (pronounced "kiv-ee-ute"), which is eight times warmer than wool and one of the finest natural fibers on the planet. "Muskox underwool can warm your hands instantly," said Mehling. "It makes wicked insulation."
The Barren Ground Muskox/Arctic Wolf hunt is all inclusive from Winnipeg and includes:
Airfare from Winnipeg to Baker Lake and return
7 day package, including 5 Full days of hunting
1 x 1 guiding
7 days/6 nights hotel accommodations at Baker Lake
All meals during hunt
Muskox license, trophy fee, and HTO fees
Wolf license
Small game hunting
Snow mobile rental
Trophy and meat prep
Hunt does not include:
Travel to and from your location to Winnipeg
Meals and accommodations in Winnipeg or Southern stopover
Licenses for hunting small game
Shipping of trophies and/or meat
Gratuities
Any taxidermy charges (we are using the same taxidermist and he is familiar with working with muskox)
Personal items including excess baggage charges, any costs incurred by delays due to bad weather or mechanical problems.
Travel Details:
Entry into Canada
For guests travelling from the United States:
If you are a U.S. citizen, ensure you carry proof of citizenship such as a passport, birth certificate, a certificate of citizenship or naturalization, a U.S. Permanent Resident Card, or a Certificate of Indian Status along with photo identification.
For international guests:
The Government of Canada requires that all travelers carry a valid passport because it is the only reliable and universally-accepted travel and identification document for the purpose of international travel.
You will need to arrive in Winnipeg the day before your hunt starts and overnight. The next morning we will fly you up to Baker Lake. We recommend the Four Points by Sheraton at the Winnipeg International Airport for your overnight in Winnipeg.
What to Expect:
Arrive in Winnipeg the day before your hunt date and spend the night. We can help you with booking rooms as required.
The following day you will be flown to Baker Lake, Nunavut on Calm Air. We will send you the flight itinerary once we book your flight.  There are 3 to 4 legs to the flight, so it will take a good portion of the day. You will check into the hotel at Baker Lake. The guides will already be there. We have a 12-hour waiting period in Nunavut so you will not start hunting until the next morning. However, your hunt includes 5 full days of hunting.
Day 2 through 6 are your hunt days:
• Breakfast and supper will be served at the hotel. Lunch will be packed for you and taken onto the tundra. You will leave town on snow machine. You will have your own. If you have access to one in your area, it would be good to get familiar with riding it. They are simple to learn to drive.
• You will target muskox first, but any wolf you see on your travels is fair game! Once your muskox is down, you will go after your wolf!!
On your last day you will fly to Winnipeg. Because of the multiple legs of the flight, you will spend most of the day travelling, which is why we recommended flying home the following day. Again we can help with booking rooms if needed.
Once your hunt is complete, your guide will prep and pack your trophies for shipping to our recommended taxidermist. They will also quarter out the animal (muskox) and get the meat back to Baker Lake.
Trophy Care:
We recommend Mr. Fish Taxidermy for handling of your trophies. They will take care of the permits, brokerage, etc. You can call them direct for pricing: Ask for Wes Wall at 1.204.755.3474
Mr. Fish Taxidermy
73 Myrtle Street
Hazelridge, MB R0E 0Y0
We can ship your trophies to Mr. Fish Taxidermy for fleshing, salting and shipping to a U.S. based Taxidermist. You will incur extra costs for this service as they apply for the USDA permits, etc. but this is the most convenient option and you are assured that your trophy is in good hands. We recommend this option but please call Wes Wall with Mr. Fish Taxidermy at  1.204.755.3474  regarding delivery time and costs involved. Mr. Fish Taxidermy can also do the taxidermy work and ship to you direct when complete.
You can also make the necessary arrangements with a Taxidermist of your choice in Winnipeg and we will ship direct to them.
Hunt Price:  $13,500 plus GST (2.5%)
Hunt Dates:  April 24 to 30, 2015
Deposits & Payments:
Deposit – $2000 per person non-refundable deposit is required within 10 days of booking your adventure.
2nd Payment – $2000 per person non-refundable payment is due November 1 prior to your adventure.
Final Payment – Final payments are due 90 days prior to your adventure start date.
Once a deposit is received, your reservation is considered confirmed contingent upon receipt of subsequent payments IN FULL and ON TIME. If payments are not made by the due date outlined on your invoice, your reservation may be cancelled and deposit withheld.
Payment Methods:
We accept Visa or MasterCard for deposit payments and personal cheques, certified cheques or money orders for final payment transactions. Credit card may be accepted for final payment however, a 3% service fee will apply. Please make cheques payable to Dymond Lake Outfitters.
Send your deposit to:
Webber's Lodges
P.O. Box 10
Ile des Chenes, Manitoba, Canada
R0A 0T0
If you would like more information about our rates, please contact us Toll Free 1-888-WEBBERS (1.888.932.2377) or by e-mail: [email protected].